LeEco teases apple, all set to launch a device with 8GB RAM
LeEco teases apple, all set to launch a device with 8GB RAM
If you have remembered we have reported couple of month back, LeEco is working on 8 GB Ram smartphone, now it can be reality on September 21, 2016.
As per the teaser surfaced online indicating that LeEco is set to release a new smartphone on September 21. The company is expected to launch the new device Le Eco Pro 3 or Le 3 Pro. The teaser takes a dig at Apple, and hints that the upcoming smartphone will sport a massive battery.
The teaser was first spotted by PlayfulDroid, takes a hard-hitting dig at Apple and its latest iPhone 7 and iPhone 7 Plus offering. The image shows that a battery falls from the sky, directly onto Apple's logo, crushing it into a bloody mess.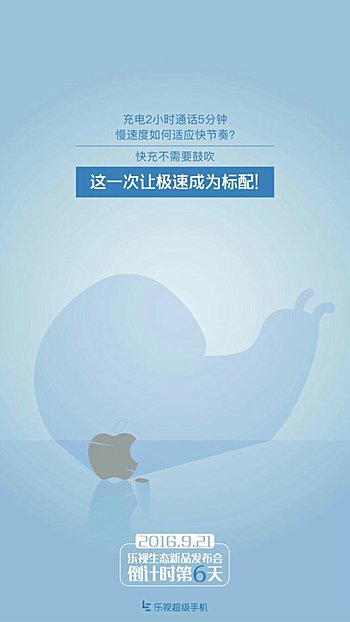 As per the report surfaced online device is expected to come with Snapdragon 821 chipset and will be available in two variants.
The higher-end model will have 5.7-inch QHD display, 8GB/256GB memory configuration, 13MP dual rear camera, 16MP front camera, and a mammoth 5,000mAh battery.
The lower-end variant, on the other hand will come with a 5.5-inch full HD display, 6GB/128GB memory configuration, 16MP/8MP camera combo, and a comparatively smaller 4,070mAh battery.
The tentative price of the LeEco Pro 3 has also been leaked and it is pegged to be somewhere between $314.16 (roughly Rs. 21,100) and $448.86 (roughly Rs. 30,100) for the 6GB RAM variant. The 8GB RAM variant will be in the range of $463.83 (roughly Rs. 31,100) and $598.53 (roughly Rs. 40,200).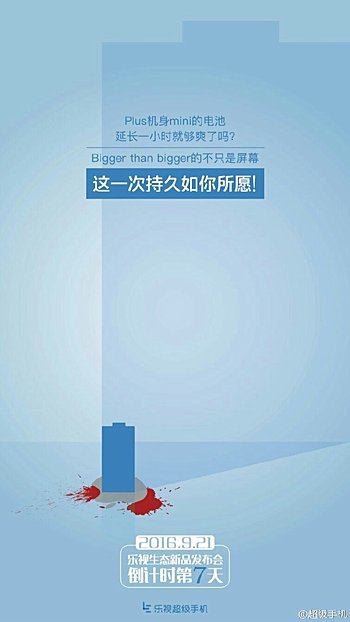 The event is expected to last for 2.5 hours and that indicates that company will not be only launching the Le 3 Eco, there will more device or accessories from the company which will hit the market. We will wait and see what company comes up with.
So what you guys think about the LeEco move of teasing Apple. Do share your views and opinion in the comment section below.