Next year iPhone will be dual SIM supported?
Next year iPhone will be dual SIM supported?
Two very common complain every Android user do about iPhone is non-availability of dual SIM support and expandable storage. For the extra size of storage on iPhone, you have to pay the extra price or depend upon the free cloud storage platform, but somewhere we feel extra storage can be bought by paying extra but what about the dual SIM Capabilities?
The recent report suggests that iPhone will soon feature dual SIM slots. USPTO (United States Patent and Trademark Office) granted Apple patent for dual SIM tech, so it seems that Apple will soon integrate dual SIM support in iPhones.
Another patent that has been filed with the State Intellectual property Office of China reveal that design has been submitted in the month of March way back in 2016 which received authorization in the September following that year. The design was submitted by Li Su whose social media profile reveals her to be leading architect for the software related to mobile devices in the house of Apple.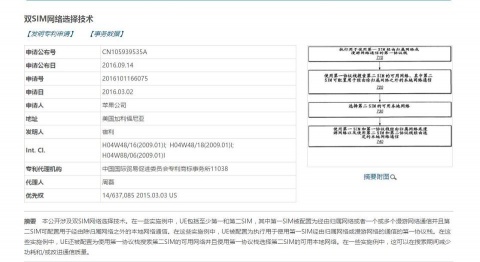 If you remember before the launch of iPhone 7 we have reported about the device might be getting dual SIM slot along with 256 GB of storage. While 256 GB became a reality, dual SIM is still awaited and hope fully iPhone 8 might have that capability as well.
If we talk about the dual SIM usability, it's a convention alien to the US and the UK but is almost natural in China, India, and many emerging markets. Users in these regions usually have separate SIM cards, one for work and one or more for personal use. Sometimes those SIM cards don't even come from the same carrier. As such, phones with dual SIM card slots or, more recently, hybrid trays have become en vogue there, as many Android device maker can attest to.